What the Phenom Acquisition of My Ally Signifies for Automation in Recruiting
My Ally is a recruiting chatbot tool that schedules 20,000 interviews a month. Phenom offers a talent experience platform and serves hundreds of enterprise firms like Newell Brands, Brother, Southwest Airlines, and more. Today, Phenom announced the acquisition of My Ally, and while it's an exciting time for people at both companies, it's also an indication that the market is continuing to heat up for tools and capabilities around the automation of recruitment practices.
Congratulations to both companies on this announcement! Here's the announcement followed by analysis:
Phenom, the global leader in Talent Experience Management (TXM), today announced its acquisition of My Ally, an AI-based HR technology company. Known for its expertise in automation, My Ally reinforces Phenom's ability to deliver an intelligent, omni-channel interview scheduling experience. The acquisition comes just eight months following Phenom's $30 million Series C funding round.
"With Phenom's first acquisition, we are executing on our growth strategy of constant innovation, enabling organizations to deliver the world's best talent experiences," said Mahe Bayireddi, CEO and co-founder at Phenom. "My Ally has proven that its strong automation technology can scale to provide enterprise-level solutions, and their curious, energetic culture fits well with our own. We welcome My Ally, their employees, and their customers to the Phenom family." 
In today's talent acquisition environment, recruiters have never been more shorthanded with so many jobs to fill. They are too often occupied with time-consuming administrative tasks such as scheduling—with 56% of recruiters spending more than a full working day scheduling interviews for a vacancy*. My Ally automates email-based interview scheduling, which complements Phenom's corresponding functionality in chatbot, email, and SMS—reducing recruiters' time spent manually coordinating with candidates and hiring managers.
"Phenom continues to relentlessly deliver the most advanced AI and automation for HR technology, and this acquisition is a reflection of that," said Tim Guleri, managing partner at Sierra Ventures. "This deal is made possible by Phenom's growth and the global demand for talent experience management. My Ally is an excellent addition and generates significant momentum for the next phase of Phenom."
My Ally automates the scheduling of over 20,000 interviews per month, leading to a significant dataset of interactions and learnings. These insights—along with My Ally's automation software—will link to billions of interactions in the TXM platform, refining Phenom AI's precision and efficiency in interview scheduling.
"Phenom accounts for every step along the talent experience journey," said Deepti Yenireddy, CEO and founder at My Ally. "By joining forces with Phenom, we are poised to take our automation technology to the next level. Customers will be blown away by how productive they can be with a single, comprehensive platform."
What Should We Automate in Recruiting?
Last year I had an opportunity to speak in front of a group of enterprise talent acquisition leaders in the DC area. We discussed AI and my book, but one of the Q&A discussions has stuck with me for well over a year. One of the leaders in the room asked a chilling question:
What will happen if employers begin to prioritize automation over experience?
With the technology currently available, we could automate every single part of the hiring process from the first touchpoint all the way to the offer. We could have candidates being contacted, screened, interviewed, and selected by algorithms. We can build a process that is entirely hands off from a human perspective.
But the more important question is whether we should.
Setting the bigger AI bias conversation aside, it's our perspective that we shouldn't be handing off all of these human components in hiring to algorithms. Yes, even as the author of a book about AI and its applications in HR, I firmly believe that we need to augment and support what we're doing without completely replacing it.
Automation in Recruiting: The Human Cost
Automation is a powerful force. If someone is able to offload 20% of their work, that automation has freed the individual up to do other things that need to be accomplished. And automation is making clear inroads into the HR and talent space.
Is automation going to change recruiting? Yes. Just like it has changed other professions. For instance, one major bank has actually replaced dozens of attorneys and loan officers with an AI-enabled database that handles the same workload for a fraction of the cost. While that work is less human-focused (while recruiting is mainly human-focused), it's a reminder that no job will be untouched by the advance of automation.
In the recruiting context, we are seeing the more entry level and/or lower skilled roles like scheduling being handled by a bot. This creates a challenging job environment for those looking to break into recruiting and get that early career experience, but that's a deeper discussion for another day. On the other hand, we're also seeing some new tech capabilities in sourcing candidates that allow someone with less experience to do the same quality of search, source, and outreach that a veteran recruiter could, so AI brings a silver lining in that respect.
It's too early to say what jobs will look like as the environment continues to evolve, but we do know one thing: it's changing.
At the same time, automation can mean better outcomes for candidates:
More consistent outreach.
Faster responses.
Easier access to information.
It is a tradeoff, like every decision, in what we give away and what we get in return.
The Real Value in Recruiting Automation
Last year we published a list of 20+ chatbots supporting the recruiting function. In that report we highlighted the real value in recruiting for automation, and it's not just scheduling an interview.
The part that we need to consider is what this enables. You see, automation in itself isn't creating new value. If that recruiter with 20% more free time suddenly gets addicted to the latest social media platform and wastes that time unproductively, automation is a cost, not a benefit. It's a silly example, but the point is we need to think about what that new white space can be dedicated to in order to reap the real benefits of automation.
The real value in automation is what kind of innovation and activities take place after white space is generated.
Using the Automation White Space
In our recent research, we saw that there is a clear link between organizational agility and HR and talent technology. If your firm wants to tackle a more agile model and methodology, then we saw clearly that having the right technology is a critical enabler of that agility. Not because it's doing the work for us, but because it enables us to focus on the right tasks.
Let's use BBVA for example. The banking and financial services firm has adopted an agile methodology for HR and talent acquisition, and recruiters work collaboratively with managers on how to prioritize hiring activities. But more importantly, they hold them accountable for the terms they agree to, leading to better transparency and satisfaction with the hiring process overall.
Why does this matter in the automation context? If a firm wants to tackle a more agile model, the team can free up time by automating some of the tasks that are currently preventing them from getting into these more strategic activities. Think about it like a personal "to do" list. At the top are those things that have to get done, even if they aren't contributing to long-term success. At the bottom are often those long-term, strategic activities that we run out of energy and/or time to get to on a daily, weekly, and monthly basis.
There's actually research to support this on a broad level. Check out the graphic below. The blue line represents test scores of innovativeness (creativity) for company founders. The red line represents value created by their companies. The blue represents a classic bell curve distribution, but something interesting happens for the most innovative/creative individuals. The value their companies create EXPLODES beyond what was expected.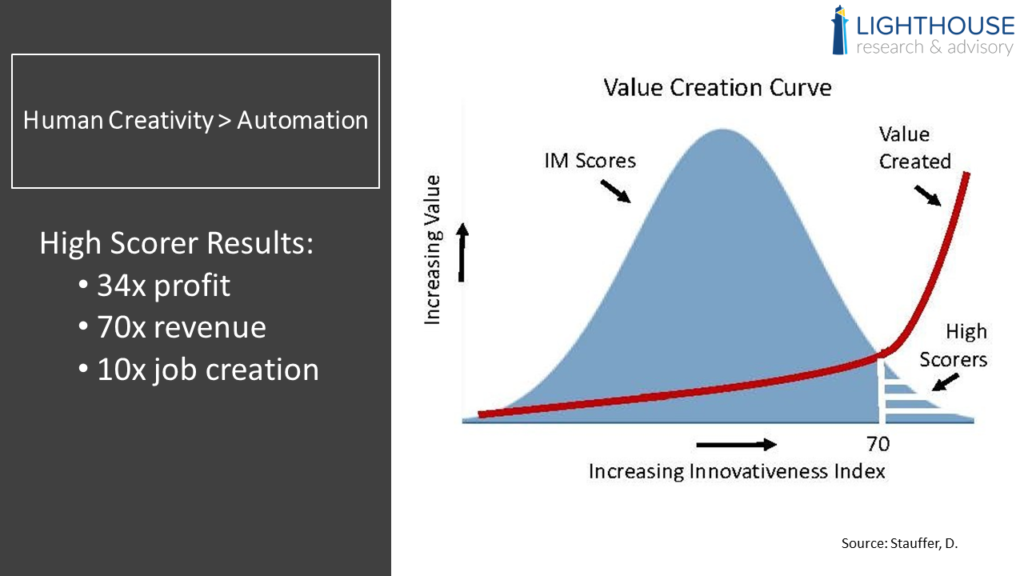 This is a part of my argument for why creativity and innovation are a critical part of automation. It's what we do with that newly available time that matters. Yes, some companies may have to run with leaner staff, but overall it should be about doing the things an algorithm can't, such as:
Crafting a high-touch candidate experience
Improving inclusive sourcing techniques and strategies
Highlighting values and culture in employer branding
Taking it back to the story today, I have talked with the Phenom team about their perspective on recruiting, and the team firmly believes that technology is there to support recruiters, enable better conversations, and drive candidate engagement, but it's not there to replace humans on any massive scale. The graphic below shows their perspective on this, and it's one I strongly support. Red and yellow tasks are those that are human-driven while the blue tasks are automated in many cases.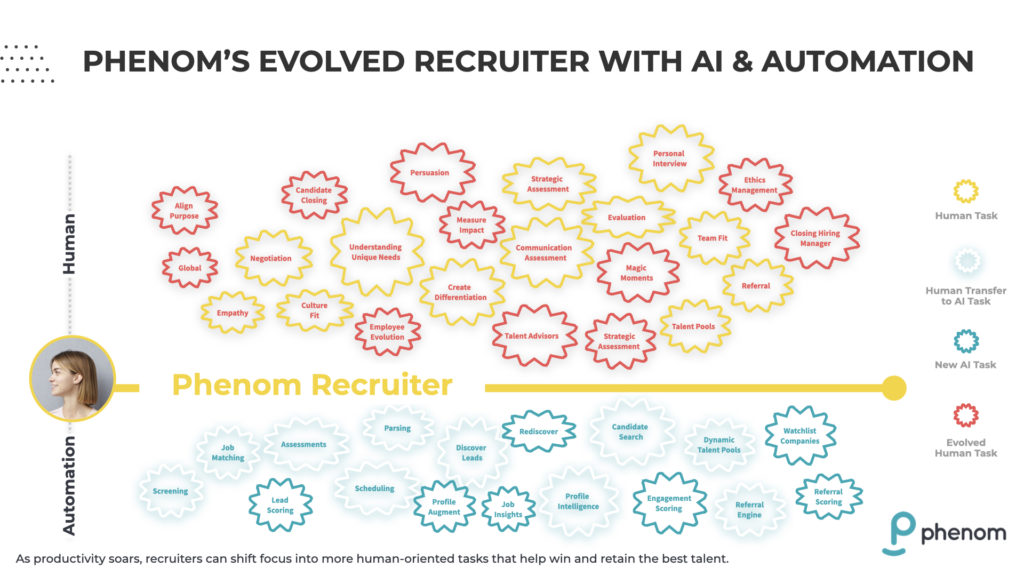 Bottom line: our team is excited about the acquisition but also about the increasing automation in the talent acquisition space and what it unlocks in terms of greater value for candidates and employers.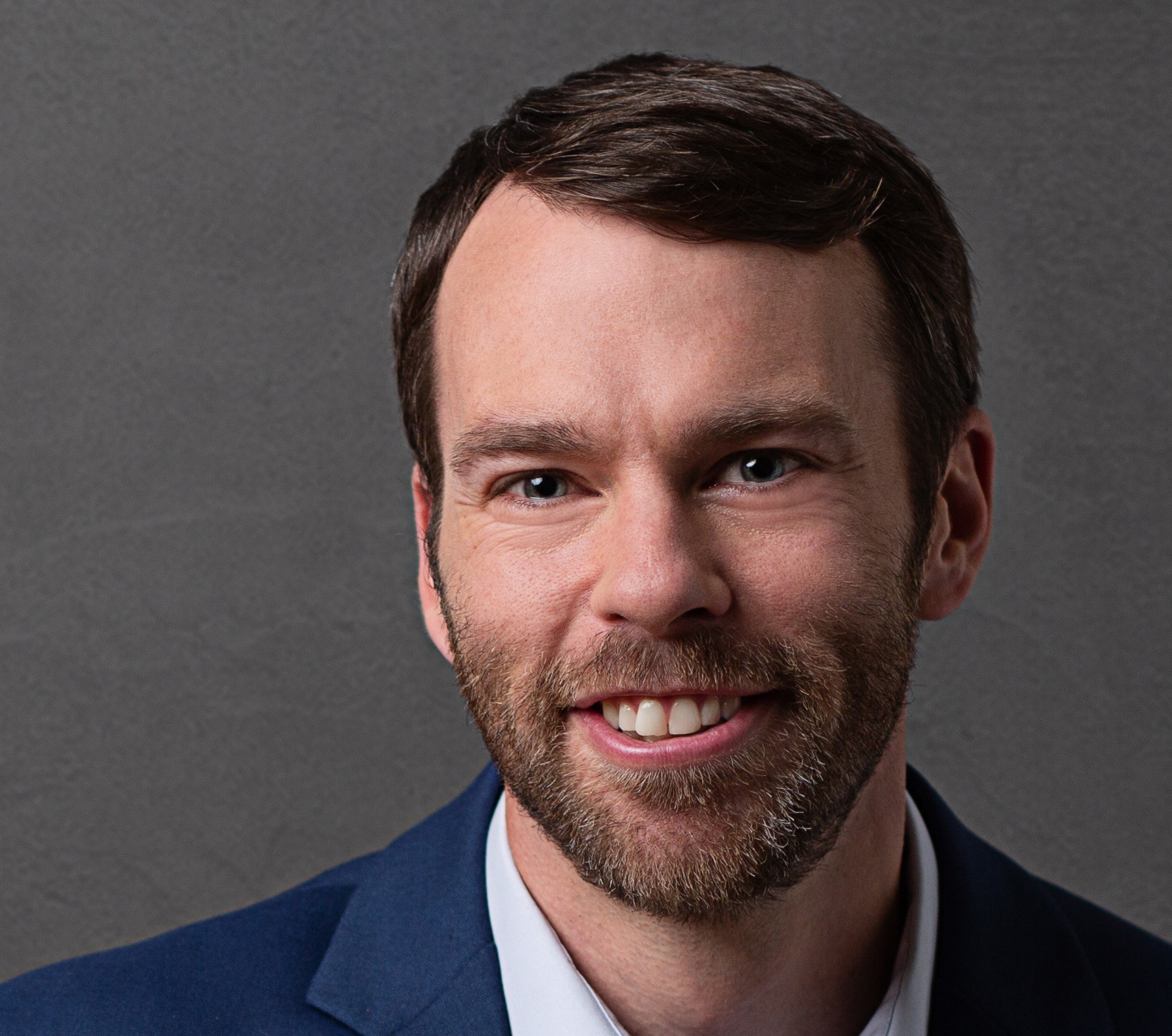 Ben Eubanks is the Chief Research Officer at Lighthouse Research & Advisory. He is an author, speaker, and researcher with a passion for telling stories and making complex topics easy to understand.