Our Chief Research Officer, Ben Eubanks, wrote the world's first book on artificial intelligence applications and how they can be used for hiring, training, and engaging a modern workforce. After a successful run, the second edition of the book was commissioned and finally released in January 2022.
The book has been used by organizational leaders to help them navigate the challenging environment of HR technology, guiding them through use cases, how to prepare for biased data sets, what this means for the future of the profession, and more.
In addition, a wide variety of universities around the globe have used the insights to support students and the next generation of HR leaders, including Cornell University, NYU, University of Montreal, Tata Institute of Social Sciences, and the University of Essex.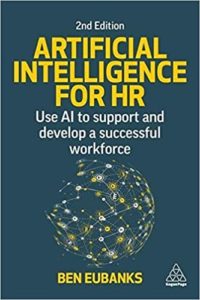 Want to order special copies of the book with your company's logo on the cover? Reach out for additional information. 
Ben's next book is currently under way and will focus on hiring and retention in the future workplace.
Copyright Lighthouse Research & Advisory. All Rights Reserved.