Workday Rising: Machine Learning, Skills, and the New Face of HCM #wdayrising
November 1, 2019
Explained to a vendor new to the #HRTech space today during a briefing that legacy HR systems are about helping you track what you've already done. Modern tools are about helping you take the next step to move the business forward.

— Ben Eubanks (@beneubanks) October 28, 2019
If I could encapsulate my takeaways from the Workday Rising conference in 140 characters or less, the tweet above would be a great start.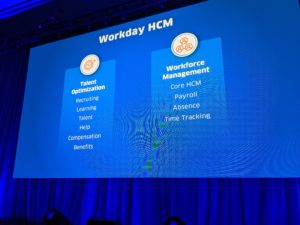 HR and human capital management software has been around for quite some time. I often joke that nobody is manually writing paychecks anymore, but today's systems go so far beyond payroll and the basics of workforce management.
During the Workday Rising event earlier this month in Orlando, the record levels of attendees and I had the opportunity to peek behind the curtain at what the team at Workday has been working on, and it was pretty incredible.
Practical Machine Learning, Practically Everywhere
A key focus for the Workday team was pointing out their increasing use of machine learning throughout the product in some subtle and not-so-subtle ways. Several of the points explored below around skills and analytics are driven by some of these innovations, but other more nuanced applications were also explored. As the team mentioned during the opening keynote:
"Workday People Experience understands you and highlights the apps and info you need most. SmartSearch brings people, knowledge, and other info into the search results."
As I've often said, this augmentation is the true power of AI. It's not automating the job you already do but about giving you the tools and information you need to be able to make more informed decisions.
Skills as a Focal Point
Skills are the currency of the business, and business leaders are increasingly concerned about the need to reskill in today's disruptive environment. Workday made several announcements from Skills Insights to blockchain-driven technology to capture work history and skills data in an immutable record for employees that follows them even if they leave the employer.
@patagonia uses @workday Skills Insights to see the internal capabilities of their workforce. Went from 28% skills clarity to 73%, now able to confidently recruit and promote internal staff! #workdayrising

— Ben Eubanks (@beneubanks) October 15, 2019
What if you could answer the question "Do we have the skills we need to support the talent/business strategy?"
Patagonia is using Skills Insights and went from 28% skills clarity to 73% skills clarity, giving them more opportunities to leverage internal talent.
I've been skeptical of blockchain applications in #HR but @workday has the firepower to make it happen and make it stick. Using blockchain to capture skills, training, and work history to verify and validate credibility. #wdayrising

— Ben Eubanks (@beneubanks) October 15, 2019
Bright Future
One of the areas I saw as a recurring theme is better insights. Not just more data and reporting, which doesn't really help anyone to make better decisions, but better analytics that may give more specific insights on what matters and what to prioritize. From Discovery Boards to embedded benchmarking data, this is really about taking businesses from guesswork to data-driven decision making.
Drag and drop "Discovery Boards" help to quickly analyze and visualize data. –>This is huge as analytics and comfort with data are key things businesses want from #HR pros. Learn by exploring! #workdayrising

— Ben Eubanks (@beneubanks) October 15, 2019
Benchmarking data allow managers to see comparisons that give them performance insights. Example: team burnout can be traced to higher than average overtime and lower use of time off, comparing team to others in the business or industry. #wdayrising

— Ben Eubanks (@beneubanks) October 15, 2019
Add to this the fact that Workday just achieved the number one slot for HRMS customer satisfaction in the 2019-2020 Sierra Cedar HR Systems Report (arguably the most comprehensive, objective set of data on HR systems in the world), and it's easy to see why there has been a steady stream of customers lining up for the firm's software.
Workday is dreaming big, which is exciting to see. And if they can keep hitting those high levels of satisfaction with the software, the Workday team will have plenty of customers to dream alongside them.