Defining Talent Acquisition Measurement Priorities and KPIs
In our recent Modern Measures of Talent Acquisition study, we asked talent leaders what their most critical priorities are when it comes to measuring talent acquisition performance. More than the basic details around attracting talent and focusing on the candidate experience, we dug into six specific areas to fully plumb the depths of these organizational priorities. This gives us a deeper, more focused view of each area instead of a broad look at measuring talent acquisition efforts that might miss a critical element. The six categories:
Talent Attraction
Talent Discovery
Talent Engagement
Talent Onboarding
Talent Strategy
Talent Partners
As you can see, this runs the gamut, but it allows for a more granular identification of best practices and potential issues with measurement. Below we examine each of these areas and the extent that companies believe each of them to be a priority. As you will see, not everything is equally important in the eyes of talent leaders. This could depend on company size, industry, strategic direction, and a host of other reasons that shape the direction of talent measurement efforts.
Talent Attraction
71% of respondents said that talent attraction was a high priority item in our study. For me, this just illustrates that no matter how far away from the core recruiting activities we get, it all comes back to attracting the right talent to the organization. Talent attraction is the critical feeder for other HR/talent activities further down the line, and without a good system in place for attracting the right candidates, you will end up falling behind the competition. This category focuses on areas such as recruitment marketing, employer branding, and job advertising—some of the key ways we reach candidates to tell them about our open positions.
Talent Discovery
For the talent that you can't or won't search for yourself, there are plenty of options for getting to those pools of candidates that would otherwise be out of reach. Talent discovery includes options such as paid search, executive recruiting, and other similar avenues. This plays a smaller role in the overall recruiting puzzle, with just a quarter of companies calling it a critically important function.
Talent Engagement
The engagement piece of TA is the most important, ranking above all else. This focus area includes candidate experience initiatives, talent assessments, interviews, and more. This is a key part of the employment process and is only getting more important as time goes on, because how we treat candidates throughout the process reflects on the organization in a big way. More candidates are NOT selected than those that find jobs within your company, and how you treat the other ten, one hundred, or one thousand candidates that were not selected could be publicly available for all to see. It's no surprise that three in four companies said this was a high priority item for determining performance.
Talent Onboarding
Onboarding is a critical piece for many organizations that links a great candidate experience with a great employee experience. Two-thirds of organizations said that this was a priority item in terms of evaluating talent acquisition performance. This includes pre-boarding, orientation, assimilation, socialization, etc. I find it refreshing that talent acquisition professionals are taking some responsibility for ensuring success beyond the start date by helping candidates to get up to speed and performing well.
Talent Strategy
Strategic hiring involves targeted efforts by companies to reach specific populations (veterans, diversity, etc.) as well as managing an increasing number of contingent workers. More than six in ten companies say that talent strategy is a crucial way to evaluate talent acquisition performance. With the growth of the gig economy in recent years, I would expect to see this area continue to grow in terms of importance.
Talent Partners
22% of companies say that their talent partners are important in determining recruiting performance. This category includes third-party recruiting/staffing firms, RPO service providers, and other recruiting service providers. With companies targeting their efforts on many of the specific areas listed here from onboarding to strategic hiring, talent partners might play a smaller role, but it's still a powerful tool in a talent leader's arsenal for acquiring the right talent.
Measuring Talent Acquisition Performance
Despite an understanding of priorities, it's clear that measurement comes far behind action for many organizations. If you look at the green and blue segments in the chart below, you can see that frequent/consistent measurement is not a reality for many recruiting organizations. In fact, depending on the category, anywhere from 15% to 30% of companies are not tracking anything to evaluate the performance of their talent acquisition efforts.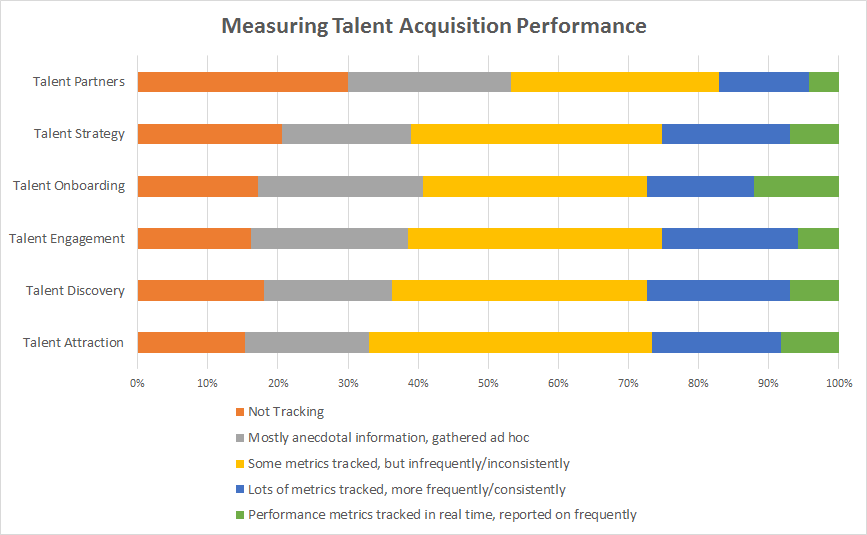 What is promising is this large mass in the middle (yellow segment) that is measuring some things. These companies are realizing the value of data and have some of it on hand, but it's not being used frequently enough for the firm to truly get the most return on it. As they mature and move towards the right, they will realize the full benefits that a data-based approach can offer, from faster and smarter hiring to more efficient and effective onboarding practices.
Where does your organization fall in terms of this list? Which area is a priority for you, and which one(s) can you improve in?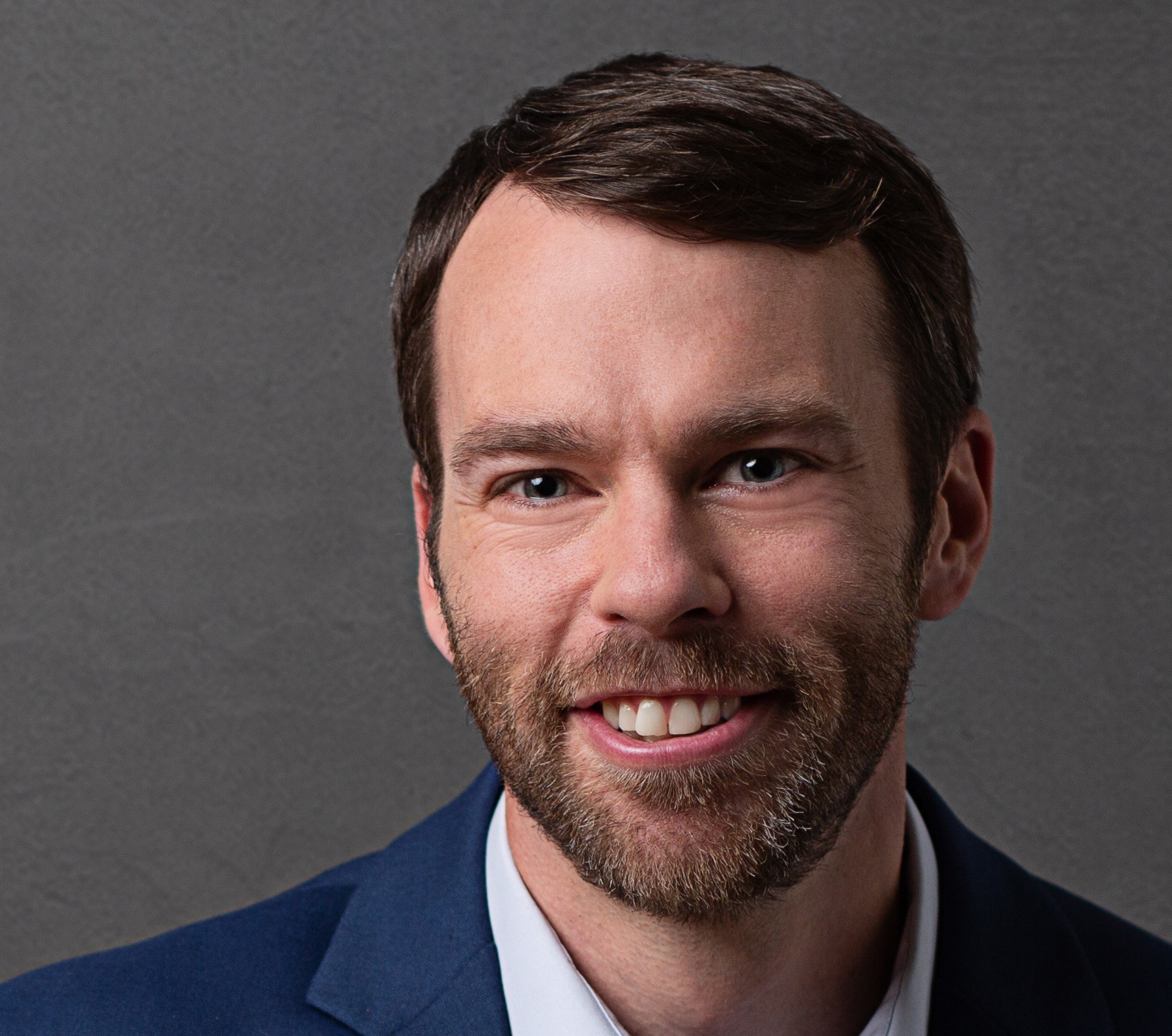 Ben Eubanks is the Chief Research Officer at Lighthouse Research & Advisory. He is an author, speaker, and researcher with a passion for telling stories and making complex topics easy to understand.
His latest book Talent Scarcity answers the question every business leader has asked in recent years: "Where are all the people, and how do we get them back to work?" It shares practical and strategic recruiting and retention ideas and case studies for every employer.
His first book, Artificial Intelligence for HR, is the world's most-cited resource on AI applications for hiring, development, and employee experience.
Ben has more than 10 years of experience both as an HR/recruiting executive as well as a researcher on workplace topics. His work is practical, relevant, and valued by practitioners from F100 firms to SMB organizations across the globe.
He has spoken to tens of thousands of HR professionals across the globe and enjoys sharing about technology, talent practices, and more. His speaking credits include the SHRM Annual Conference, Seminarium International, PeopleMatters Dubai and India, and over 100 other notable events.