How to Measure Candidate Experience Metrics
Candidate experience matters. Despite companies saying it is increasingly difficult to find and hire quality candidates, many of them are not measuring or attempting to influence the candidate experience in a positive way. That's like saying it's important to eat healthy while you continue to pile up your plate with junk day after day. It's a long-term recipe for disaster.
In reality, the big question that talent acquisition leaders have is: how do I measure the candidate experience? One of the biggest challenges I hear about when discussing candidate experience is that most companies simply don't know how to measure it. When you think about it, an "experience" can be somewhat ethereal and difficult to pin down. However, in our recent Modern Measures of Talent Acquisition Study, we dug into some specific methods for tracking candidate experience and measuring the impact of our actions. I believe this is going to help talent leaders to better understand the full implications of the candidate experience as well as how to start putting some measures in place to track and improve results.
Candidate Experience Metrics
Mobile Readiness: This metric examines the career site and mobile application process. In essence, how easy is it to navigate jobs and apply via a mobile device? We know that the majority of web traffic is mobile-based, so this is a key consideration for companies looking to attract candidates.
Pre-Candidate Experience: Applying for a job is no longer the first contact candidates have with your organization. In many cases, by that point they have already begun reading reviews and learning about your company online. In addition, this KPI can encompass campaign performance to measure the effectiveness of your candidate marketing efforts.
Offer Acceptance Rate: How often people accept your offers tells you how close you are to understanding and meeting their needs during the recruiting process. The more you make offers that are not based on previous conversations or not guided by intelligence gathered as the person moves through the recruiting funnel, the higher your rejection rate will be.
Candidate Readiness: Candidates that are properly primed for each stage of the application, interview, and offer processes are going to perform better. Companies with talent communities and other social-based tools can use them to help candidates understand the process, the types of questions that will be asked, etc. so that the candidate is as ready as possible at each stage.
Candidate Satisfaction: This measures the relative satisfaction of candidates during or after the application process and can be handled with a simple 1-2 question survey. Like with many surveys, it is important to baseline the data initially and then measure from there over time.
Recruiter Response Time: How quickly the recruiter responds to applicants and their requests is a key part of the candidate experience. If you have ever applied for a job, you know that the recruiter is your single point of human contact, and having a bad experience there can flavor the entire experience.
Application Drop Off: When the application process is clunky and unrefined, job applicants do not want to waste their time with the entire process. Candidates do not want to re-enter data that is found on their resume, share irrelevant information, or have to go through other hoops to simply be considered for a position.
Candidate Experience Measurement Data
The graphic below illustrates the level of usage for each of these methods. The orange on the left is least mature (not tracking), and the green on the right is the most mature (tracking multiple metrics both frequently and consistently).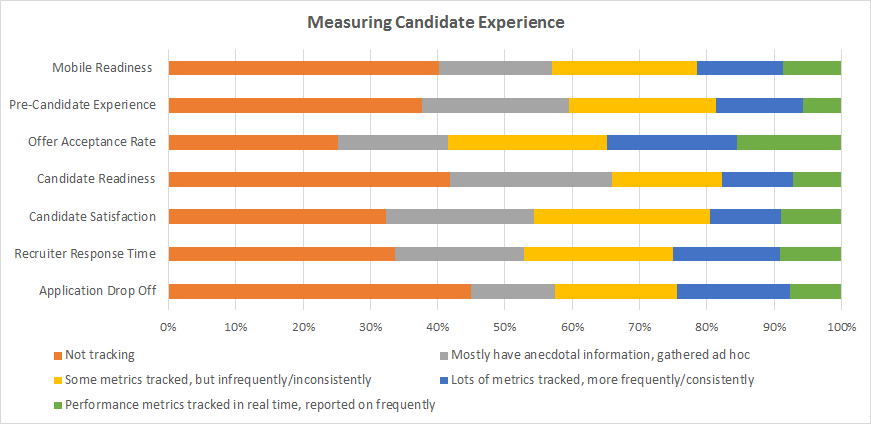 The thing that sticks out to me pretty quickly is offer acceptance rate. I think it's a relatively common metric, and it is really easy to measure offers and acceptances. The same goes for candidate satisfaction: a quick survey with a question or two and you can check the pulse on how happy candidates are with the hiring process.
However, when we get into areas like application drop off and candidate readiness, the number of companies tracking those measures goes down. This is because its more difficult to put a hard number on an area like readiness or the pre-candidate experience. When exploring KPIs like these, it is important to think about them in the context of your organization's processes, culture, and approach to hiring.
It is worth noting that depending on the specific item being examined, between 39 and 53% of companies are not using these methods to evaluate the effectiveness of the candidate experience, despite it being a critical focus area for talent acquisition professionals.
Measure and Refine
As with any measurement approach, it's important to begin measuring a few items and improving them. Only then can you expand the metrics you're evaluating. The maturity of the approach determines the ultimate success organizations will have with these (and other) hiring metrics.
An interesting point to consider: what I have noticed in my years of working as an HR/recruiting leader and as an analyst is that these measures are not disparate and disconnected. For instance, improving your candidate readiness is going to feed into candidate satisfaction and your offer acceptance ratio. And improving the mobile experience can increase satisfaction and reduce application drop off. When selecting metrics to begin measuring your approach to candidate experience, think about how to create some synergy among your tactics to improve overall results.
Then refine, refine, refine. Keep tweaking and testing your approach. With so many companies saying that they can't find the right talent fast enough, you would think that more of them would optimize their approach to the candidate experience and change things around. As we all know, "the way we've always done it" can be a powerful opposition to overcome, but by demonstrating some quick wins and results with a new approach, you can start improving your company's talent acquisition results, as well as improving the bottom line.
Which of these candidate experience metrics is measured at your organization? Are there any that you measure that I haven't covered?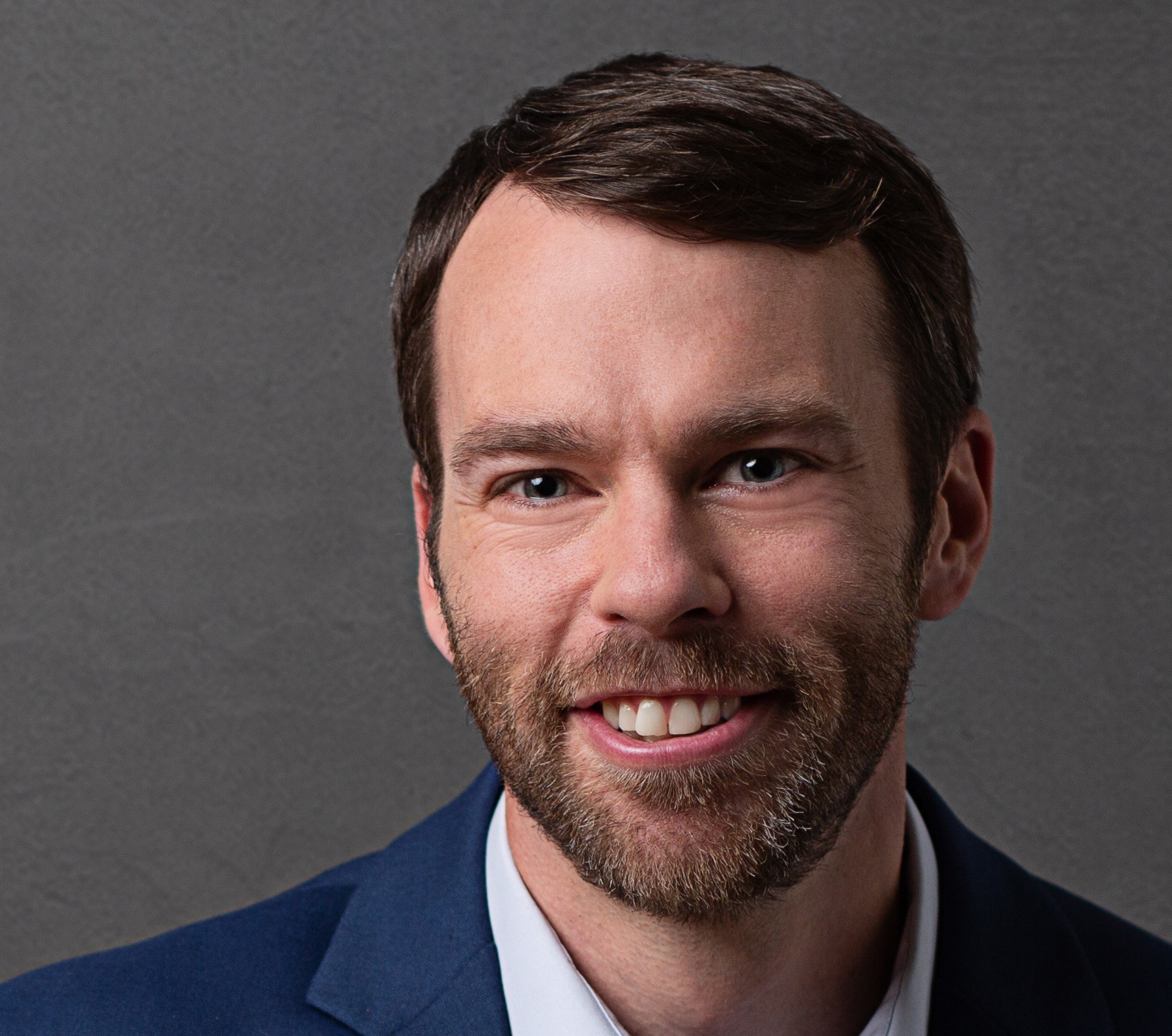 Ben Eubanks is the Chief Research Officer at Lighthouse Research & Advisory. He is an author, speaker, and researcher with a passion for telling stories and making complex topics easy to understand.
His latest book Talent Scarcity answers the question every business leader has asked in recent years: "Where are all the people, and how do we get them back to work?" It shares practical and strategic recruiting and retention ideas and case studies for every employer.
His first book, Artificial Intelligence for HR, is the world's most-cited resource on AI applications for hiring, development, and employee experience.
Ben has more than 10 years of experience both as an HR/recruiting executive as well as a researcher on workplace topics. His work is practical, relevant, and valued by practitioners from F100 firms to SMB organizations across the globe.
He has spoken to tens of thousands of HR professionals across the globe and enjoys sharing about technology, talent practices, and more. His speaking credits include the SHRM Annual Conference, Seminarium International, PeopleMatters Dubai and India, and over 100 other notable events.