The State of Voice of the Employee and Enterprise Employee Feedback Survey Platforms
In the last few years, the workplace has transitioned from a focus just on employee surveys to a more continuous listening approach. This transition has also been branded in some cases as "voice of the employee," since it opens a direct channel from the workforce to company leadership, giving workers a voice like never before.
This isn't just a shiny object. We've seen countless organizations using these types of tools to gather valuable insights from their people, from areas that can be improved to new ideas for innovation, and even something as seemingly simple as affirmation of company policies. The ability to get a fast, detailed response really revolutionizes the feedback loop between employers and the workforce.
There are numerous solutions in this space vying for market share, and we recently conducted an analysis of some of the competitive enterprise solutions for tapping into workforce sentiment that exist in the market today. Interestingly, each has a slightly different flavor or approach, and depending on your existing HR tech stack, some solutions may make more sense than others.
Every year we review dozens of HR and talent technology providers during the HR Tech Awards program to identify the solutions that are trusted and proven to support employers across a range of needs. Learn more about the HR Tech Awards

Common Features for Enterprise Voice of the Employee Solutions
The features of these systems have evolved since the early days where they were nothing more than an online version of an employee survey. Now, many of these systems include advanced capabilities, such as:
Heatmaps for targeting areas that need special attention and focus
Sentiment analysis for quickly interpreting employee mood from text responses
Manager-oriented tools that drive action and accountability
In an experiment we conducted a few years ago, we found that these AI-enabled systems are better than humans at identifying trends in surveys, especially when it comes to open text or qualitative responses. Humans aren't meant to consume and decipher large amounts of text, but algorithms can do it quickly and equitably, reducing human bias from creeping into an analysis of the data.
Vendors and technologies that purport to help with employee surveys that only rely on keyword analysis and more traditional human-driven analysis to find trends are not able to keep pace with these features of modern systems.
Key Players in the Voice of the Employee Market
There are dozens of companies that offer technology to support this need, and we have looked at some of the standalone tools that are geared towards enterprise buyers to help understand which ones are capable of meeting the security and privacy needs of a large company while still offering a flexible and powerful employee survey platform.
Workday Peakon Employee Voice
Prior to the Workday acquisition, Peakon was a powerhouse platform with incredible capabilities. It's always a toss up to see what happens after a technology like that is acquired, but Workday has done an incredible job of bringing the technology to life. One thing that was particularly interesting was the "true benchmark" score that allows companies to see how their survey responses stack up against other similar companies not just based on industry, but on a complex variety of factors that ensures they are really looking at similar size, age, and other relevant variables when benchmarking.
From embedding high-performing action steps into the manager review process to ensure they are striving to make positive changes to a design and approach that drives a nearly 90% response rate across all customers, Workday Peakon Employee Voice is solving real problems every day for companies like Sodexo, Southern New Hampshire University, Trustpilot, and more.
Workday Differentiator: One differentiator that is intriguing is the ability to create a private conversation with employee survey respondents to understand the nuances or details of their response. For instance, as the screenshot below shows, if an employee provides comments on a lack of growth opportunities, the reviewer can respond back privately to ask for additional context in order to help solve the problem.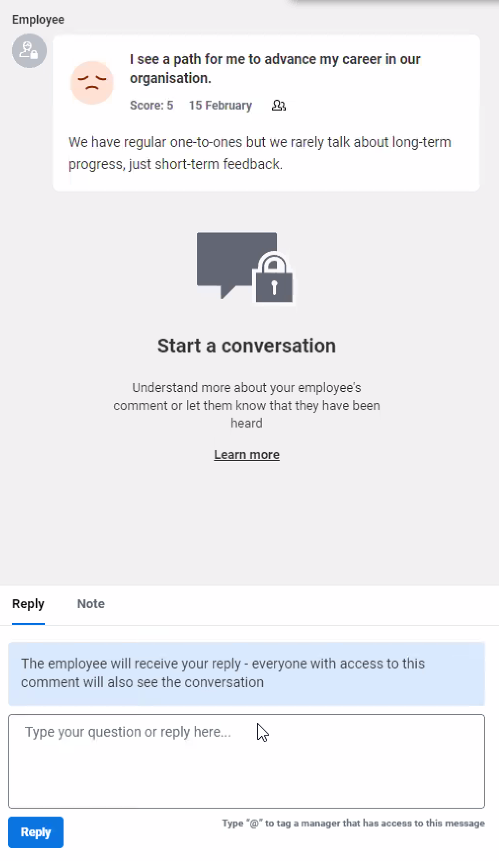 Glint
LinkedIn's acquisition of Glint closed in 2018, though Glint has remained as a fairly independent company since then. Their platform is focused on quickly gathering employee feedback to multiple choice questions, but each question also allows free text inputs to gather more qualitative and actionable information that the employee may want to share.
Because of the LinkedIn connection, Glint surfaces LinkedIn Learning content where development opportunities arise for managers. For instance, if they perform poorly in the area of creating an inclusive team, learning content related to that topic can be brought to the manager to support that skill development. Companies like Spectrum Health, Crocs, Glassdoor, and FICO use Glint to support their efforts to engage the workforce.
Glint Differentiator: Glint brings managers and their teams together as part of the survey review process, which helps managers cocreate solutions to their team's challenges alongside their team. This is powerful because it doesn't just tell the manager to "fix it," but it gives them a mechanism to open up a dialogue with their team to solve any problems together.
Perceptyx
Perceptyx has been on a bit of an acquisition spree in the last two years, acquiring Waggl, CultureIQ, and Cultivate to bring some new and powerful features into the platform like AI coaching, crowdsourced employee ideas, and more. The core of the system is Ask, the proven employee survey tool that allows employers to gather the right information from their people so they can take action. Companies like PwC, SAP, Kellogg's, and Abbvie use Perceptyx to understand their workforce and what they need.
Perceptyx Differentiator: Because of the new capabilities brought from these recent acquisitions, this opens up a ton of new opportunities to understand what's really going on. For instance, Cultivate was a platform that used digital transcripts from Slack or team meetings to understand leadership interaction styles and trends. Bringing this into the Perceptyx platform as another lens on the reality of team engagement gives employers additional data points and perspectives to drive better decisions.
Culture Amp
Like some of the other players here, Culture Amp has its own history of acquiring other companies to bring those new features into the system, from Zugata in 2018 (performance management) to Disco in 2021 (brings integration capabilities into the flow of work, such as gathering information via Teams/Slack). Culture Amp is heavily data driven, and it has open sourced some of its benchmark data for public use and visibility. Some of Culture Amp's 6,000 customers include Oracle, McDonald's, Etsy, and Intercom.
Culture Amp Differentiator: One thing that I really liked in the Culture Amp demo was the ability to overlay key moments or points in history (key executive hires, funding rounds, important initiatives, etc.) against the company's engagement score data to see how those changes affected the results, as the image below shows.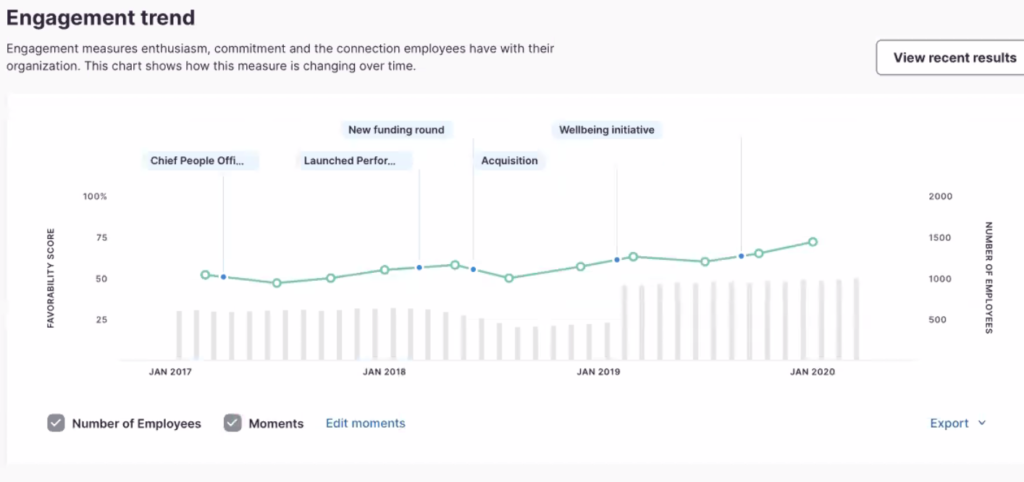 Again, these aren't the only solutions that exist, but they are some of the most proven and comprehensive tools in the market today. If you want to know more about our analysis of these systems, please feel free to reach out to our analyst team. In addition, if you are a technology provider and think your tool should have been featured here, please let us know.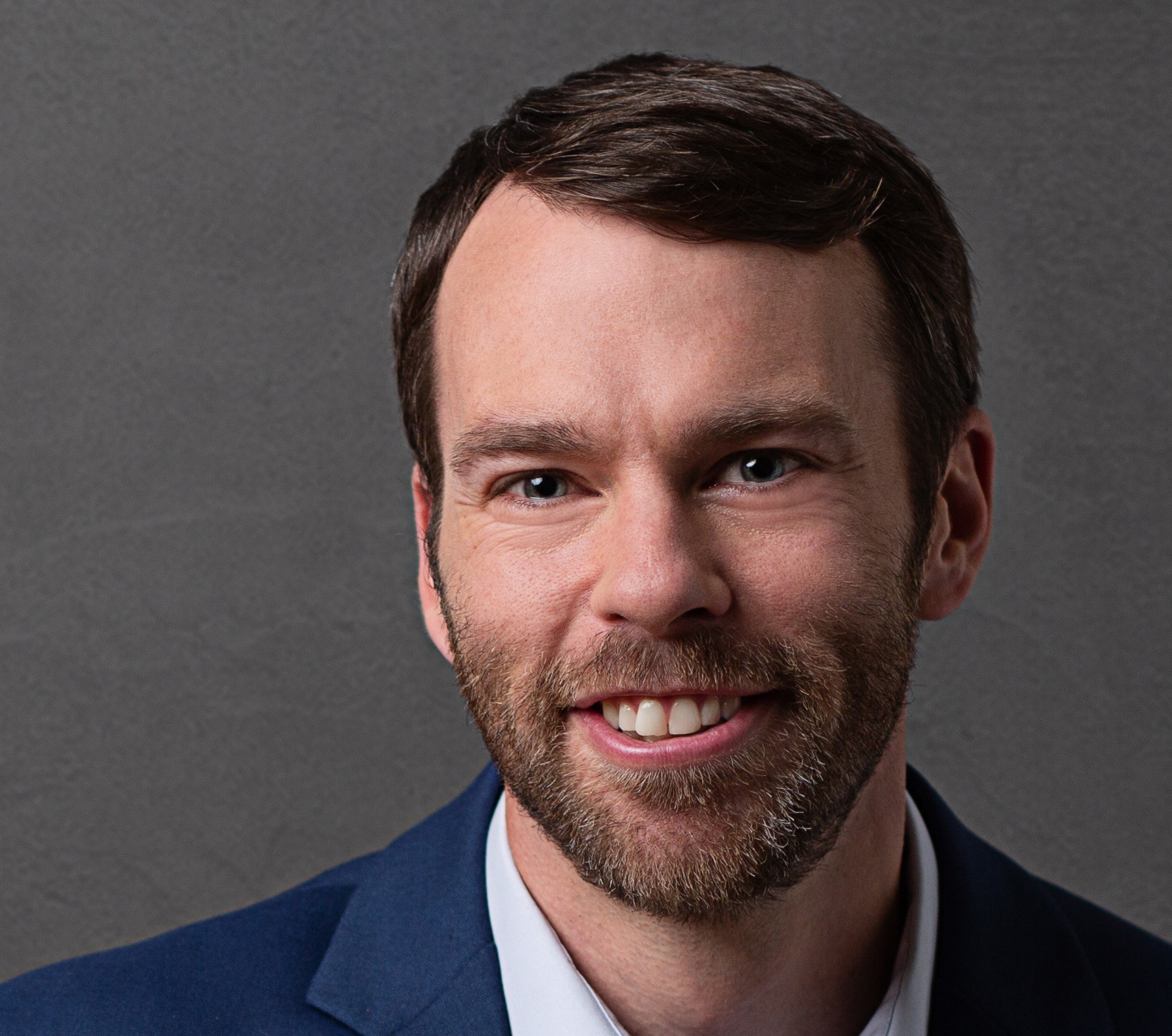 Ben Eubanks is the Chief Research Officer at Lighthouse Research & Advisory. He is an author, speaker, and researcher with a passion for telling stories and making complex topics easy to understand.