Ceridian Rebrands to Dayforce, Launches Range of New Features and Strategic Efforts
Fall for analysts like us in the HR technology space equates to travel season, with industry conferences and technology user conferences happening on a weekly basis between August and November. This week is Ceridian's Insights conference in Las Vegas.

Ceridian has been known for its Dayforce product for many years (the company has a 30 year history in the payroll and core HR space). This week the company announced a change in the name of the company to Dayforce effective January 2024. We've seen in the industry that it's hard to change a name/brand and not confuse users and prospects, and this steady transition onramp is a smart play for the team.
More importantly (in my opinion), the company is doubling down on features and services powered by AI and automation to create more value for customers and really help set HR up for success at their 6,000+ customers.
Key Highlights from the Ceridian INSIGHTS Technology Releases
Frankly, it took the team several hours to list out the full set of changes, enhancements, and features coming to the platform. I've selected a few below that caught my eye.
Dayforce Co-Pilot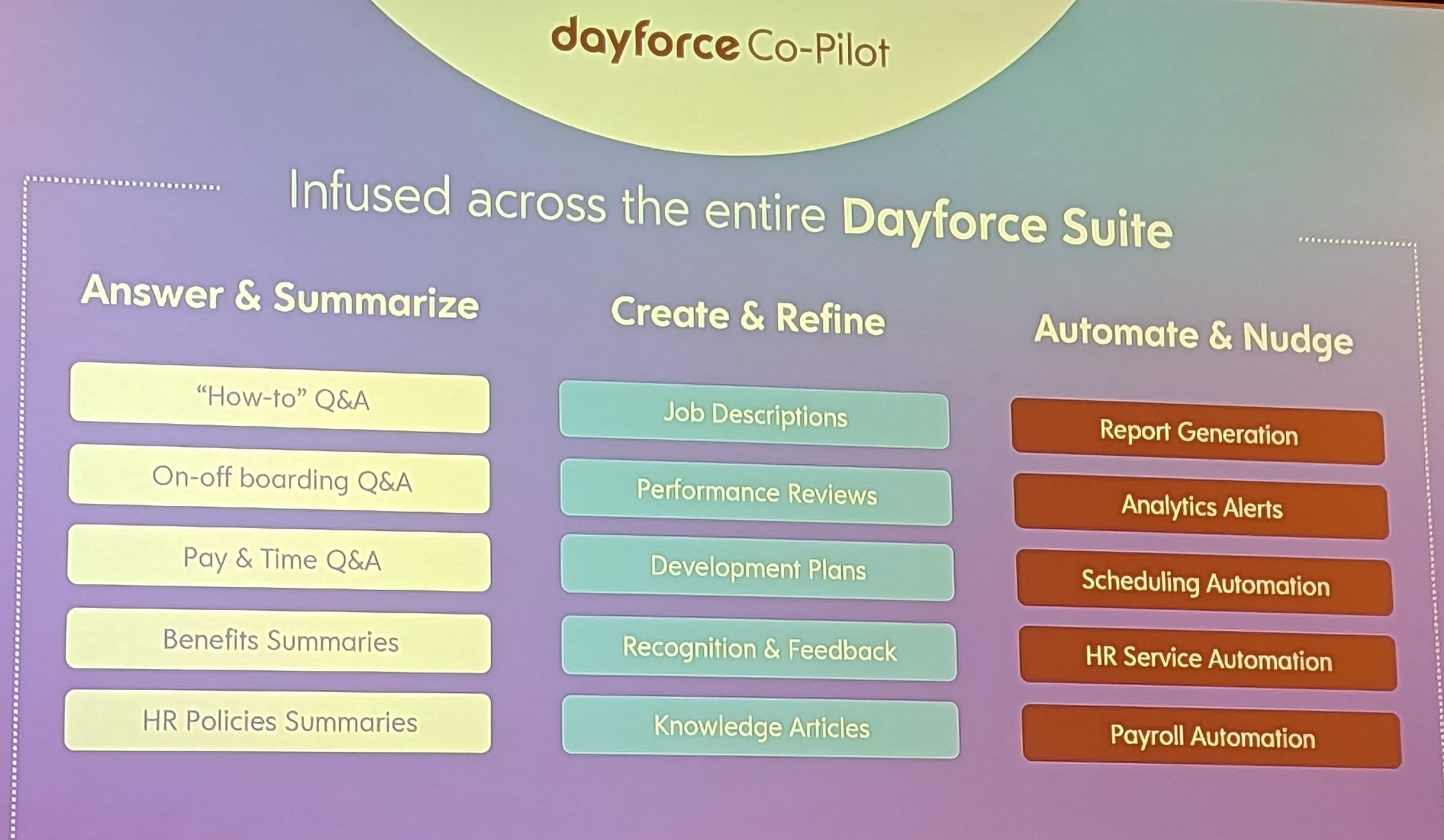 The term "Co-Pilot" is used a lot today to describe the relationship between a human and artificial intelligence. In the case of the Dayforce product, it's more true than in the usual sense. During the demo, I was impressed to see the range of answers the system could provide beyond just bringing up links to a bunch of internal policies in response to a question. As the image above shows, there are three key categories of the Co-Pilot's functionality:
Answer and summarize: give me answers to basic questions and help condense large text into short, understandable snippets
Create and refine: develop job descriptions, individual development plans, employee feedback, and more with a simple query
Automate and nudge: create a report for me (my favorite!) or automate other routine HR tasks
Color me impressed. The new Dayforce Co-Pilot system is an incredible innovation.
Under the Hood: AI Governance
As the author of the world's most-cited resource on AI applications in HR, this is a topic that I am always drawn to. The Ceridian team has great leadership here and their approach to responsible AI is one that has one critical element other vendors lack: choice.
Many providers force clients to opt out of using their data for training AI models. Ceridian takes the opposite approach and doesn't assume that every company is comfortable with their data being used in that manner–so they ask companies to opt in instead.
That may seem like a minor difference, but consider this: how many times in your life have you been opted into something without your full knowledge and support? How did you later feel? At the same time, how much more commitment do you feel when you intentionally opt into something? At some fundamental level, you are invested in the success or outcomes of that.
Beyond choice, their tenets of responsible AI usage are what you would probably expect from an enterprise HR tech provider:
Social good
Privacy and security
Transparency
Inclusion
Reliability
Accountability
Green
AI by choice is important in a world where employees (and citizens) expect to have the right to control their own information. Some new research shows that it's nearly impossible to delete a user's data from a trained AI model. Kudos to the team for that focus.
Compliance and Global Pay
Putting the "cool" factor of AI and data aside, the company has been known for compliance and managing the core elements of HR and payroll for a long time, and that legacy still plays out in how it approaches, onboards, and serves new customers every day.
My favorite was probably Compliance Center, which will be available in 2024. As a former HR leader, I know how critical it is not to miss a key legal requirement for a locality or municipality where you have employees operating. And in a world with more remote workers than ever, companies struggle to keep up with the places their workers are operating.
Compliance Center will offer real time, personalized compliance information delivered as a service for Dayforce clients. It can tell you what's happening at a federal, state, or local level (US and Canada will roll out first).
Ceridian's Dayforce Wallet was the first real push by an HCM provider to offer a native solution for earned wage access/on demand pay. The company now has that operational in the US, Canada, and the UK and more than $2B in earned wages have been collected by workers to date.
In addition, there were several announcements around new countries for Ceridian's native pay solution, but they currently serve customers in 224 countries/territories, just to show how far their existing partnerships on pay can scale.
Talent Features Abound
I'll admit that I'm a fan of employee-centric talent solutions, because in a world of talent scarcity, we can't stress strongly enough the need to support and serve our people. The features here were numerous, including:
Skills Engine uses a standards-based approach (not a proprietary or homegrown skills ontology) to power a range of actions and insights throughout the platform.
Career Explorer was launched last year, but it now helps workers see skill gaps and determine how to close those with AI, internal training resources, and more.
Dayforce Talent Exchange (my favorite): helps companies identify where talent exists internally/externally and which source might be best for a particular role. Coming early 2024.
Believe me when I say that I'm still not even a portion of the way through my notes on all of the announcements from the event. Bottom line: Ceridian/Dayforce is a company to watch. They have been building an incredible product for global enterprises and it clearly shows in their customer stories and the produce feature set. They have the core HR elements in place, but their grasp on data and AI exceeds some of what I'm seeing elsewhere and their talent features put them head to head with many of the frontrunners as well.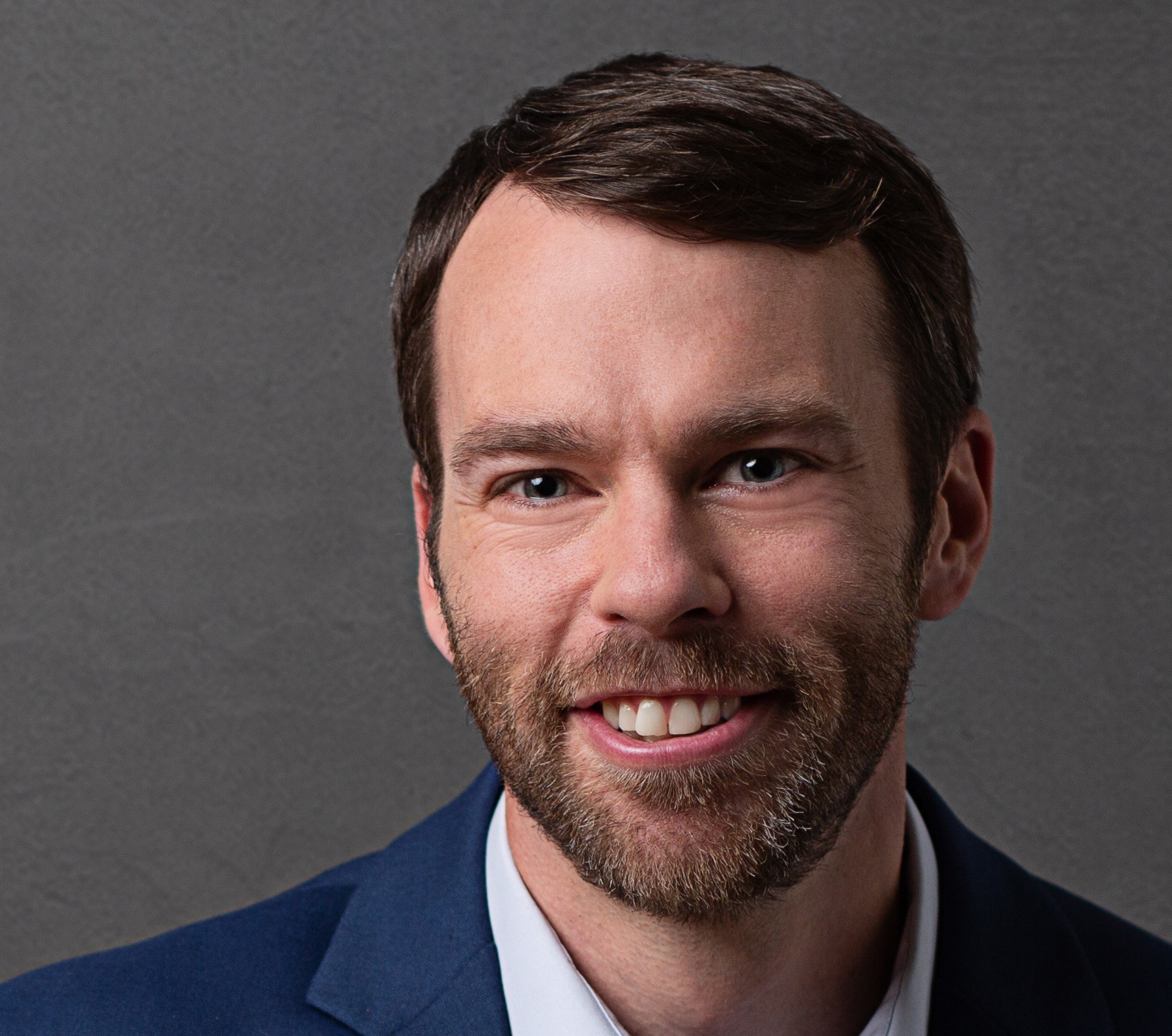 Ben Eubanks is the Chief Research Officer at Lighthouse Research & Advisory. He is an author, speaker, and researcher with a passion for telling stories and making complex topics easy to understand.
His latest book Talent Scarcity answers the question every business leader has asked in recent years: "Where are all the people, and how do we get them back to work?" It shares practical and strategic recruiting and retention ideas and case studies for every employer.
His first book, Artificial Intelligence for HR, is the world's most-cited resource on AI applications for hiring, development, and employee experience.
Ben has more than 10 years of experience both as an HR/recruiting executive as well as a researcher on workplace topics. His work is practical, relevant, and valued by practitioners from F100 firms to SMB organizations across the globe.
He has spoken to tens of thousands of HR professionals across the globe and enjoys sharing about technology, talent practices, and more. His speaking credits include the SHRM Annual Conference, Seminarium International, PeopleMatters Dubai and India, and over 100 other notable events.